Thank you from Backpack Bed for Homeless
---
This Tuesday as the Community Green Thumbs Program set up their market stall in the Merrilands foyer, I was struck by the most amazing smell of basil. The freshness was literally in the air.  Every week I see students and staff walking away with the most amazing, organic produce grown in our garden. That is reward enough, really. We forget that all the money raised by the Community Green Thumbs Program supports a wonderful charity, Backpack Bed for Homeless.
We recently received correspondence from Jenny at Backpack Bed thanking us for our support and she included a handwritten note from a recipient. Please see her message below.
It is so wonderful to see the positive impact our fundraising makes on those in need. A huge thank you to all our staff, students and visitors for supporting the market.
Hi Nadine and the PRACE team,

Thank you so much for your continued support with your recent donation of $335.60. Your donations helps us make a difference.

This year 49,200 Australians will sleep on the street, under bridges and worse (ABS 2016).

Thanks to your donation – we provide street sleeping homeless people with no shelter, dignified all weather protected Backpack Beds.

You are amongst a special group of caring and compassionate individuals and organisations who we rely on to offer people sleeping rough a sense of dignity, a lift in self-esteem and protection against the elements.

Via 600+ charities across Australia 29,000 Backpack Beds have been distributed to street sleeping homeless people. The success and demand of our homeless program continues to be overwhelming.

Again, thank you for partnering with us to make a difference to the lives of homeless without shelter.

Jenny Chung

Administration Officer
Backpack Bed for Homeless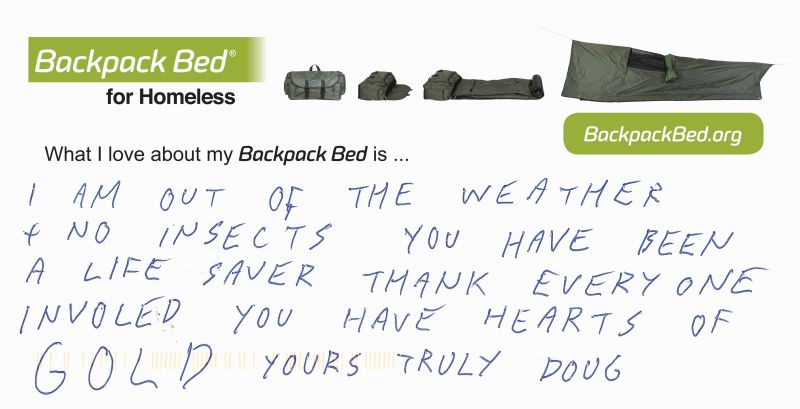 Backpack Bed for Homeless provides emergency relief Backpack Beds to street sleeping homeless people without shelter. They work in partnership with 600+ homeless agencies across Australia to reach homeless people who do not have any other form of accommodation. The Backpack Bed is study proven to improve health, dignity, sleep, warmth, comfort and safety.
Awarded a 2011 Australian Human rights award by the Australian Human Rights Commission.